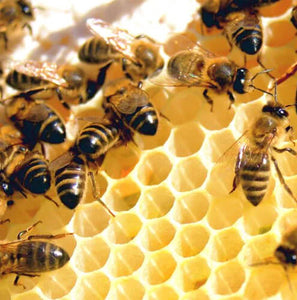 Hawaiian Honey from Rainbow Bees Honey
Your first time tasting raw Hawaiian honey is a moment you
never forget. At Rainbow Bees Honey, we know the feeling and help our customers relive the experience every day.
Our healthy, all-natural, unprocessed Hawaiian honey comes from hives on Oahu and the Big Island. It is lightly filtered one time to remove wax and hive debris – and that's it.
If you're wondering, yes, many of our bees are located
on organic farms where they serve as essential pollinators.
When you enjoy Rainbow Bees Honey, what you eat comes
directly from the bee to you with nothing added or processed. It's the only way we'd do it, and that will never change.
Our Hawaiian Honey Varietals Include Award Winners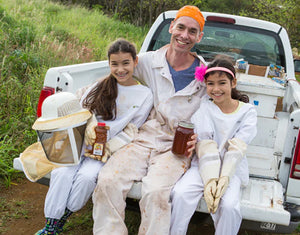 From Our Family To Yours
At the Hawaiian Natural Honey Challenge, held annually by the Big Island Beekeepers Association, Hawaiian Rainbow Bees' Owner Malcolm Yorkston took home prizes in a variety of categories. However, it is receiving Best of Show for his signature Rainbow Blossom honey that he is particularly proud of. This floral honey won over the judges in a blind taste test for its slightly sweet, well-rounded flavor. For those used to the flavor of generic store bought clover honey, Rainbow Blossom is a good introduction to exotic honey flavors such as macadamia honey or lehua honey.
"Honey for Everyone" is Our Founding Principle
In an era where, too often, large corporations try to profit from the food terms organic, raw, and all-natural, we keep our prices realistic and affordable. Our mission is to support our local community while producing healthy, affordable Hawaiian honey.
Everyone wins when you do things the right way and the
product quality is unmatched.
We maintain facilities in Honolulu and on the Big Island near Hilo, Hawaii, and pull honey from approximately 2,500 hives in over 35 apiaries (bee yards) across the Islands.
They're located in the Ohia Lehua rainforest areas, Macadamia tree groves and agricultural regions growing cacao, coffee, bananas, coconuts, mangos, lychee, and avocados – you can see why our honey tastes amazing!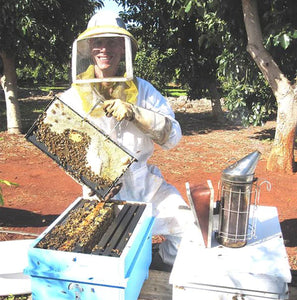 What Makes Rainbow Bees Honey Different (and Better)?
You've read earlier that we're a locally owned, family company producing all-natural, raw Hawaiian honey and that many of our hives are located on organic farms. But there's more to our story.
Our Process: We're devoted to minimal processing and only light filtration for necessary purification. Our Oahu and Big Island honey is bottled and packaged in Hawaii.
Raw and Healthful: Our raw, natural honey offers three natural enzymes introduced by the bees. The enzymes help prevent bacterial infections and aid in digestion.
Meaningful Packaging: We offer a "honey pouch" created for the island lifestyle or distinctive Tiki bottles that say "Aloha from Hawaii" as a genuine Hawaiian honey product
Timeline: A Brief History of Honey in Hawaii
1857

Honeybees from California arrive by ship; three hives are set up in the Nu'uanu Valley of Honolulu

1890s

Additional honeybee hives are established to increase the production of mesquite beans for livestock feed

1892

Macadamia nut trees arrive from Australia; growers find they can increase production with pollinating bees

Early 20th century

Honeybees increase production from native and introduced species – guava, pineapple, coconut, macadamia nut

Mid-20th century to today

More people discover the distinctive taste of honey from Hawaii; production increases continually
We Sell Wholesale Honey and Serve Retail Customers
As part of our "honey for everyone" philosophy, we
sell Hawaiian honey wholesale and also serve individual retail customers. All receive the same fresh, raw, all-natural Rainbow Bees Honey.
Many health and natural food stores throughout the
United States carry and sell our products. We offer fast shipping to them
direct from Hawaii.
Our products are an ideal choice for people who enjoy the best Hawaiian honey – and to be carried by natural and organic grocers who serve customers with the same tastes and expectations of quality.
We're also especially popular with individual customers and
as a Hawaiian honey wholesaler thanks to innovative honey pouches and famous Tiki bottles. The Tikis are widely recognized symbols of Hawaii and make fun gifts for natural food lovers.
Hawaiian
Honey That's All-Natural and Award Winning
If you're most familiar with the generic flavor of mass-produced clover honey, an entirely new experience awaits you with our Rainbow Bees all-natural Hawaiian honey.
You might start by trying our exotic flavors like macadamia
nut or lehua honey – very likely unlike anything you've ever tasted. We bottles them all with love and care from Oahu and the Big Island.
We're a family-owned company dedicated to fresh, natural products. We're also proud of the Best of Show recognition our Rainbow Blossom Honey has received from the Big Island Beekeepers Association.
FAQ
Hawaiian honey and the different varietals we offer at Rainbow Bees are unique and can be found nowhere else in the world.

The taste of our honey cannot be replicated because Hawaii has such a unique environment. Many of the hives from which we pull our honey are located in private, upland rainforest areas.

We also pull honey from farms that are healthy and organically maintained. Our bee hives are in quality, well-managed locations around the islands. Our award-winning honeys are only lightly filtered, contain natural enzymes, and consistently win awards within the state.